eTRANSAFE celebrated its 16th Consortium Meeting in October 2022 featuring the 2nd edition of the eTRANSAFE Awards.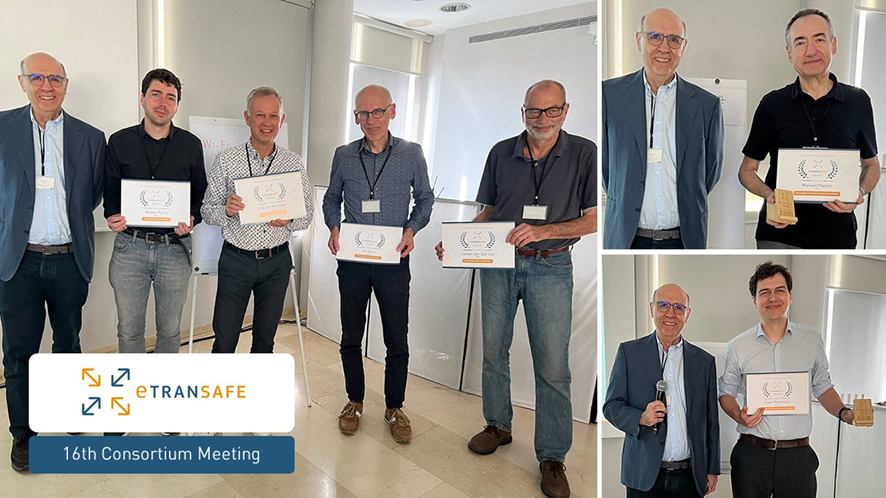 The multistakeholder project consisting of 16 public partners and 13 pharma partners recently celebrated its fifth anniversary at the end of August, and the project end-date of February 2023 is rapidly approaching on the horizon. With this in mind, the aim of the 16th CM was to overview the state of activities and agree upon the prioritization of pending task.
eTRANSAFE has come a long way in these past five years. The consortium has been successful in developing "ToxHub", a revolutionary platform to improve drug safety predictions. The system brings together several preclinical and clinical databases in an integrative data infrastructure and innovative computational tools that aim to drastically improve the feasibility and reliability of translational safety assessment during the drug development process. The platform was first launched as a prototype in Summer 2021 and is currently being tested by the project pharma partners. Several use cases were demonstrated during the meeting. The post-project sustainability of the system was at the centre of the 16CM and plans are progressing towards ensuring its future maintenance and development.
The event also featured the 2nd Edition of the eTRANSAFE Awards, acknowledging the work of consortium members who have made outstanding contributions to the project. Manuel Pastor (UPF) was awarded for Outstanding Individual Academic Contribution, Gavin Nicholson (Optibrium) for Outstanding Individual Industry Contribution and the EMC crew, comprised of Johan Van Der Lei, Jan Kors, Rowan Parry and Erik van Mulligen, for Outstanding Team Contribution. Congratulations to all the winners!
We thank all the participants for this extremely productive event, and we are very much looking forward to meeting everyone again for the 17th and final eTRANSAFE Consortium Meeting in February 2023!