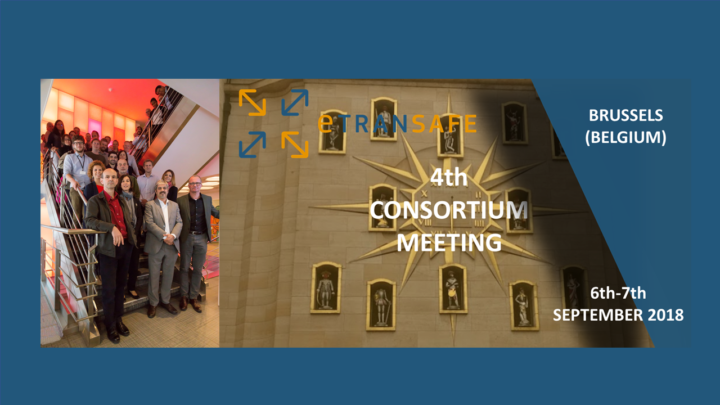 The 4th eTRANSAFE Consortium Meeting was held in Brussels (Belgium) on the 6th and 7th of September 2018.

The eTRANSAFE consortium met in Brussels at the end of the first period of the project to share experiences and discuss about first achievements. The meeting took place right after EuroTox 2018 conference, which several members of the project attended and where positive networking opportunities arose.
Following past meetings experiences, the 4th Consortium Meeting of the project was structured around workshops, also including a session to allow short updates on workpackages. Discussions around the topics below ensured a deep involvement of all project participants:
"What to model", to define user interests, models development criteria and priority
"Clinical Data", to discuss the data availability and the chances to embed different sources to support the translation from preclinical to clinical and viceversa
"Development of templates: off-targets and treatment related findings", to identify type and use of data sources and how define to harmonize and highly standardize the data available, targeting SEND-like annotations when possible
"Guidelines for software development", to agree the technical requirements
A special workshop with the title "Translational prediction – from vision to visualisation & User stories" was organised, in which all participants attended. This workshop was aimed to define some initial workflows that could guide the development process. To this end, some time was devoted to share some EFPIA use cases with potential challenges that eTRANSAFE translational analysis approaches could aim during the project life.