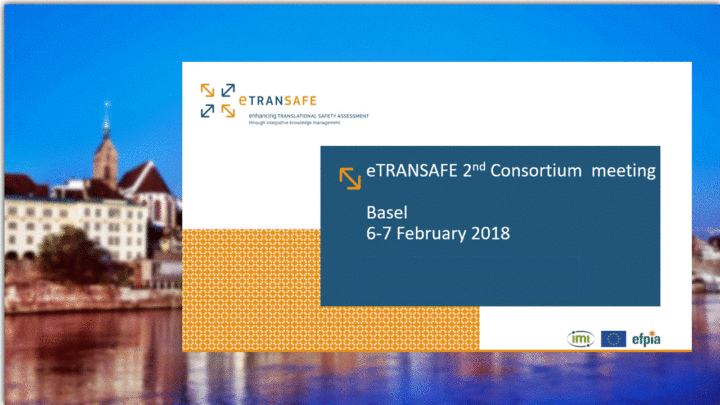 Important outcomes at the 2nd Consortium Meeting of the eTRANSAFE project
The 2nd eTRANSAFE CM was held in Basel (Switzerland) on the 6th and 7th of February 2018, where members of the 26 partners of the Consortium met to share research outcomes from the first 6 months of the project life, as well as to discuss on project specific topics such as Data collection, interoperability and integration.
In addition to presentations from the 10 Work Packages, parallel sessions were organised to emphasise efforts on Modelling and Data Sources.
One of the project aims is to develop predictive services, contributing to the safety assessment of chemical compounds. Integrative analysis of preclinical and clinical data for generation of candidate translational biomarkers is another important goal of the project. A great number of activities has already started in this first period.
eTRANSAFE is expected to build upon the success of eTOX, for this the use of eTOX assets such as eTOXsys and OntoBrowser was addressed during the meeting. The need to develop an adequate sustainability plan from the very beginning of the project, and the importance of promoting and disseminating the information and the knowledge generated were also discussed, as the creation of a task force aimed at addressing the collection of data (both preclinical and clinical) by the EFPIA companies from a common perspective.