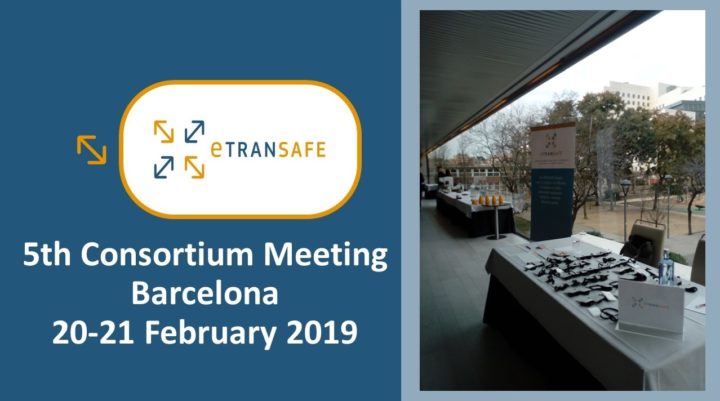 The 5th eTRANSAFE Consortium Meeting held in Barcelona (Spain) on the 20th and 21st of February 2019.

The eTRANSAFE Consortium met in Barcelona in February 2019 to share the progress and discuss about achievements and next steps within the project.
Following successful past meetings experiences, the 5th Consortium Meeting of the project was structured around workshops dealing with key topics relevant for several work packages:
During the first day, the meeting started with a special workshop entitled "Preclinical and clinical terminology mapping" to set up strategies for terminology mapping for both preclinical and clinical studies, as well as identifying tools and resources. It was followed by an overview on the status of preclinical database development and plans for its implementation, but also on Clinical data sources and the current condition for data sharing, ending with a progress report on the developed text mining strategy and tools for identification of treatment-related findings. The second workshop of the day was focused on a review of the current version of workflows and how these will be taken up by the future knowledge hub to accommodate the needs of the end-users.
During the second day, two parallel workshops where held, i) Clinical data collection (trial data); and ii) Combining in vitro and gene expression data for elucidation of mechanisms of toxicity in vivo studies.
The meeting ended with the feedback from the SAB members, who had observed the meeting during the course of the two days, followed by a high-level discussion among all the members of the Consortium regarding next necessary steps for achieving a successful mid-term review. The SAB acknowledged the great involvement of the participants in the project and the eagerness to share expertise for the development of new strategies and the achievement of the project objectives.